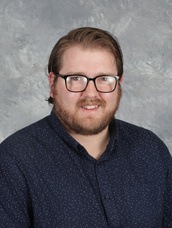 Adam Moyer
HS Science/Math
Degrees
College

Grove City College

(2012)
Current Position: Physics, Chemistry, Life Science and Math.
Past Positions: Physics, Chemistry, Life Science, and Math (Pre-Algebra through Calculus)
Hobbies or Secondary Positions: Old Navy, Center for Talented Youth (summer camp), and Online Tutoring
Something to share with parents considering Christian Education: In public school, I felt like I had to hide any books or clothing that represented my faith or else face bullying by students and even teachers. I think it is a wonderful opportunity to learn how to incorporate our faith into every subject and build a community with other believers where we have a high standard to be Christ to one another and the world around us.
Something you believe makes PCS special: We have a very tight-knit community that we can lean on for prayer and support.
What makes PCS different from public school: I already answered this with my "one thing." :)
What makes PCS different from other Christian schools: I don't know enough about other Christian schools to answer this fairly, but I believe we are rather affordable. Also, we have several teachers who are qualified to teach, and do teach, at the collegiate level.