Abby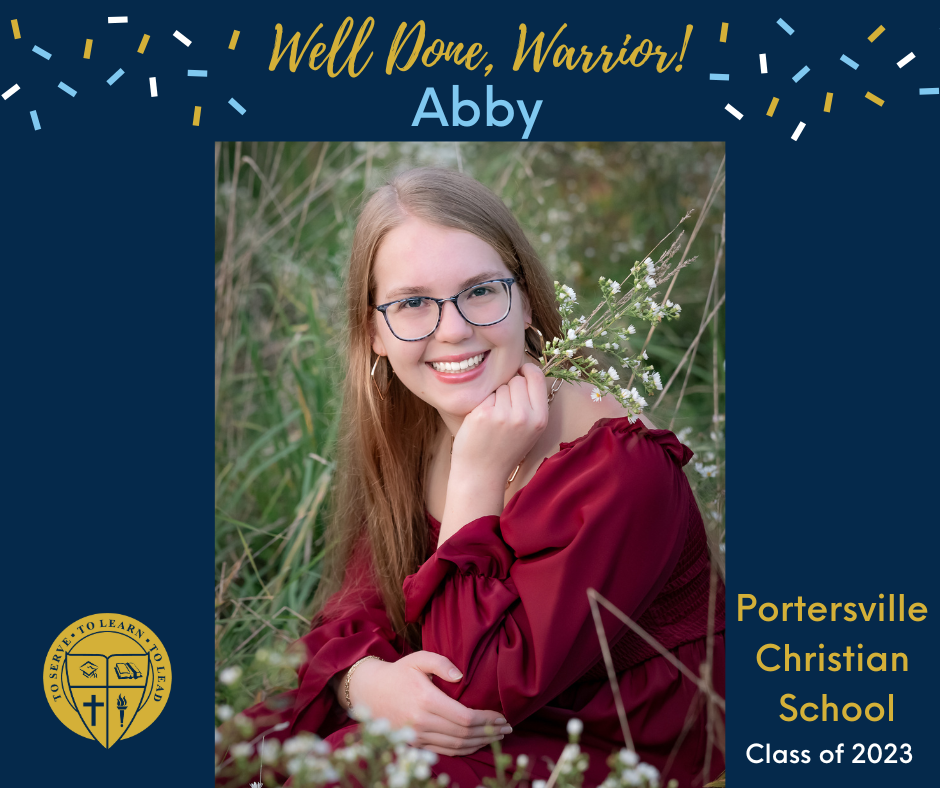 Abby, like several members of her class, has been at PCS for 13 years! After graduation, Abby is headed to Geneva College for actuarial mathematics with a Spanish minor. Let's hear what Abby had to say about her time at PCS.
What is a fond memory of your time here, or something special about PCS? Since PCS is small, we have small grades and therefore lots of friendships are made. I have many fond memories of my classmates being funny and weird and having a blast. Mr. Wise classes have given me some great memories and I really like the open group discussion method he uses.
I have a great memory from either 9th or 10th grade when the class did a plank off in English with Miss Davenport. Review days with her and Mrs. Myers were also great.
Is there anything you will miss about PCS? Friends, teachers, and the memories!
Is there a scripture verse this year that is meaningful to you? Psalms 139:14 "I praise you because I am fearfully and wonderfully made; your works are wonderful, I know that full well." and 2 Corinthians 12:9a "But he said to me, "My grace is sufficient for you, for my power is made perfect in weakness." Therefore I will boast all the more gladly about my weaknesses, so that Christ's power may rest on me."
What do you think is the most valuable thing you have learned at PCS? I have learned a lot, but something important that I have learned is how we need to keep searching, learning, pushing, and growing, especially in our faith. We need to ask why (I got that from Ruth and a speech she gave about Mr. Wise) and what does this mean to us. We can't have our parents' faith, we need to find our own. It is okay to be confused and ask questions. We also need to be able to talk to others of other religions and worldviews. We need to grow up and not expect everything to come easy, be given to us, or to be like how we were raised. I can attribute a lot of the above to Mr. Wise, but he wasn't the only teacher to help transform our lives and shape us.
Do you have any advice or words of wisdom for the students in the grades below you? School is important, but it's okay to make mistakes and you don't need to be the best.
Abby, thank you for sharing your thoughts! You will be missed at PCS!