Aleks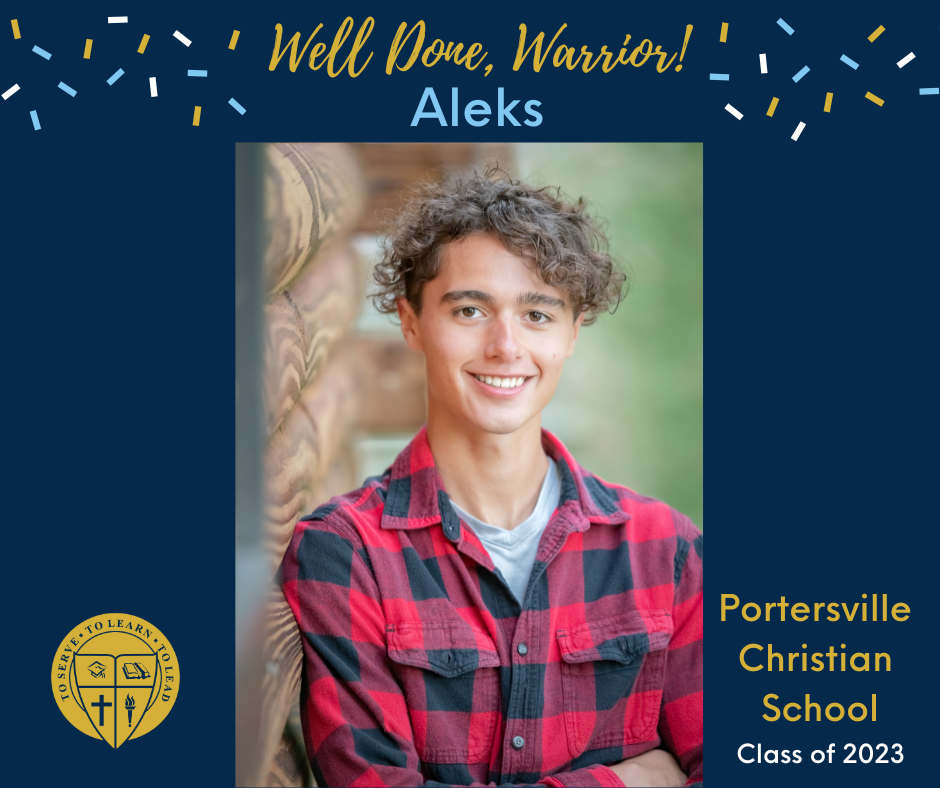 Aleks has been at PCS for his entire education, so 13 years! He is a well-rounded young man who has been involved in many extra-curriculars at PCS. After PCS, Aleks is planning on attending PA Gunsmith School, which is a 2 year trade school that trains its students to have the knowledge and skills necessary to become a Gunsmith. Here is what he had to say about his time as a Warrior.
What is a fond memory of your time at PCS, or something special about PCS? I have had so many amazing adventures with my class throughout the years. Whether it be different field trips like Gettysburg, playing on sports teams, volunteering at the school, or the Senior wilderness trip, it's been a great experience, and I am thankful to have shared it with those in my class.
Is there anything you will miss about PCS? I will definitely miss the people: my class most of all, but then also the teachers whom have impacted my life, and other friends that I have made over the years here.
Is there a scripture verse that is meaningful to you this year? Yes. 1 John 1 has a lot of good things to say about how we should live. "This is the message we have heard from him and declare to you: God is light; in him there is no darkness at all. If we claim to have fellowship with him and yet walk in the darkness, we lie and do not live out the truth. But if we walk in the light, as he is in the light, we have fellowship with one another, and the blood of Jesus, his Son, purifies us from all sin."
What do you think is the most valuable thing you have learned at PCS? This is difficult to answer. Since PCS has impacted my spiritual life so much, I would say that my biggest takeaway is to continue striving to do everything for God and to represent Christ all the time. The other main thing I have learned is to work hard, but not in such a way that you miss the good things God has given us in this life.
Do you have any advice or words of wisdom for students in the grades below you? I encourage the other classes to make the most of the time they have left at PCS. There are so many valuable things that can be obtained academically, spiritually, physically, and relationally. You will carry these things with you as life goes on. So do not take your Christian education for granted. It is a gift that not everyone has the opportunity to enjoy.
Thank you, Aleks, for those thoughtful responses. We wish you the very best!