Anna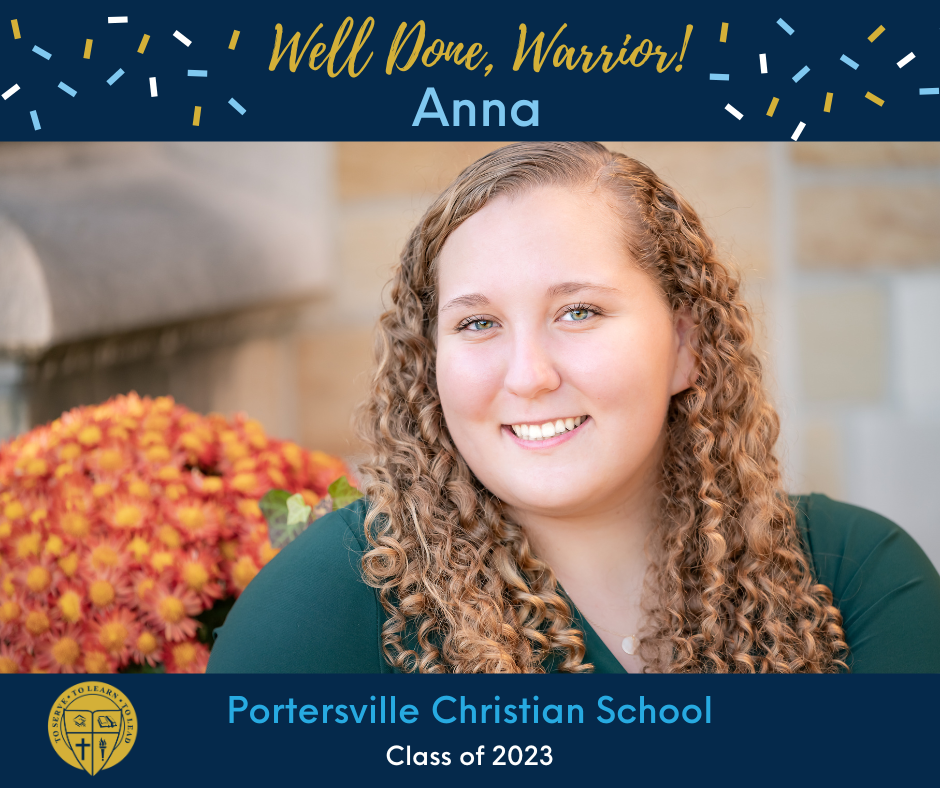 Anna, the President of the Class of 2023, has been at PCS since kindergarten. To say that Anna is involved in many things at PCS is an understatement! This fall, Anna will be attending Grove City College to major in elementary and middle school education with a focus on English and science. Here's what Anna wanted us to know about her experience as a Warrior.
What is a fond memory of your time here, or something special about PCS? I don't think I can pick a single memory to call my favorite; there have simply been too many good ones. One of my favorite things about PCS is the environment. Because there are fewer than fifteen people in my grade, I have had the opportunity to develop deep and meaningful relationships with each of them. I have also enjoyed the relationships I have been blessed to build with the teachers and faculty members.
Is there anything you will miss about PCS? I will miss lots of things about PCS, but primarily the people. I will miss seeing Chuck's smile every morning. I will miss each of the teachers I have had over the years. I will miss ninth periods spent learning new songs with Mrs. Picerno and the other kids in chorus. I will miss seeing all the younger students as they walk through the halls laughing about time spent recess. I will miss making faces at Mr. Thomson in the hallway. I will miss spending American Literature outside. I will miss so much about PCS.
Is there a scripture verse that is meaningful to you this year? Psalm 61:2 "From the end of the earth I will cry to You, when my heart is overwhelmed: lead me to the rock that is higher than I."
What do you think is the most valuable thing you have learned at PCS? I have started to learn to love the Good. It is so easy to get jumbled up in the details of life, and while it can be good for us to deal with the tedious, little things, it is also important for us to take a step back and enjoy the Good: good literature, good music, time spent with family or friends, the beautiful world we are able to enjoy around us every day. I have always been one to stress over little things, but PCS has taught me to appreciate the Good things that God has given to us. And I still have a long way to go, but loving the Good is one of the invaluable things I will tale away from PCS.
Do you have any advice or words of wisdom for the students in the grades below you? Enjoy the time you have with your classmates, it really does go incredibly fast!
Anna, we have no doubt you will do amazing on your next adventure! You will be missed!!