Sophia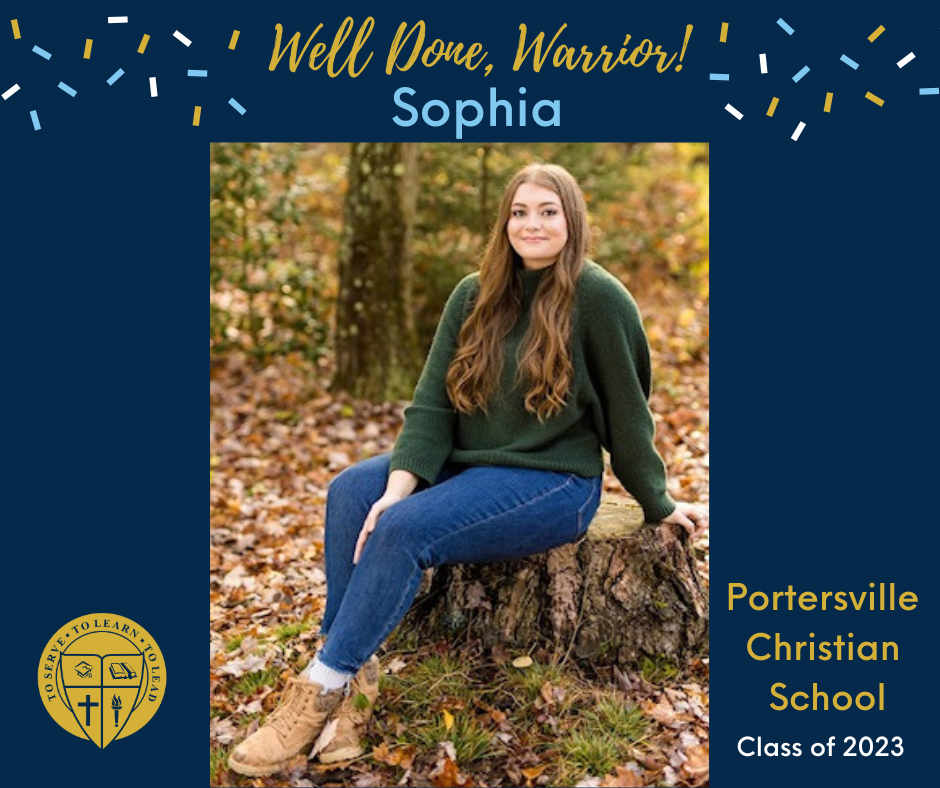 Sophia has been a member of the PCS Class of 2023 for 14 years, meaning she attended pre-school here as well! Now that she is leaving the "PCS nest", Sophia will be going to Waynesburg University for their nursing program to become a Nurse Anesthetist. Sophia had some thoughts to share when we asked her about her experience as a Warrior.
What is a fond memory of your time here, or something special about PCS? Doing fundraisers with my class were some of the most fun times I had at school. I got to be in their presence in a non-class setting and work together with them while laughing and making jokes.
Is there anything you will miss about PCS? I will miss the fellowship here. I have grown really close to my classmates and when I walk through the hallways, I see many other friends. I will miss seeing these people so often classes like Communications and American Literature where we laugh a lot and learn to look at things in a different way.
Is there a scripture verse this year that is meaningful to you? The entire book of Ecclesiastes has seemed to coincide with my year. We learned this book of the Bible at the beginning of my Senior year and there has been many times where I have felt overwhelmed and lost my sense of meaning in life, but this book has been a constant reminder that I will never be fulfilled with life until I can rest in assurance of God. He is where our joy comes from.
What do you think is the most valuable thing you have learned at PCS? The most valuable thing I have learned at PCS is that God is the constant that we can hold to in every moment of our lives. People try, and people fail, but God never fails us and that is the most stable foundation I could ever build my life upon.
Do you have any advice or words of wisdom for students in the grades below you? I would challenge younger students to understand that being challenged is good. The teachers at PCS are wonderful at helping you through, but learning to take the challenges and persevere through them (by giving your best effort) will prepare you for the future. Life gets harder and quicker, but being challenged the way we do in elementary and high school helps prepare us for the future years where we learn to apply what we have learned and show Christ through the struggles.
Sophia, you have expressed some important truths in your responses. We wish you the very best in everything!