Ruth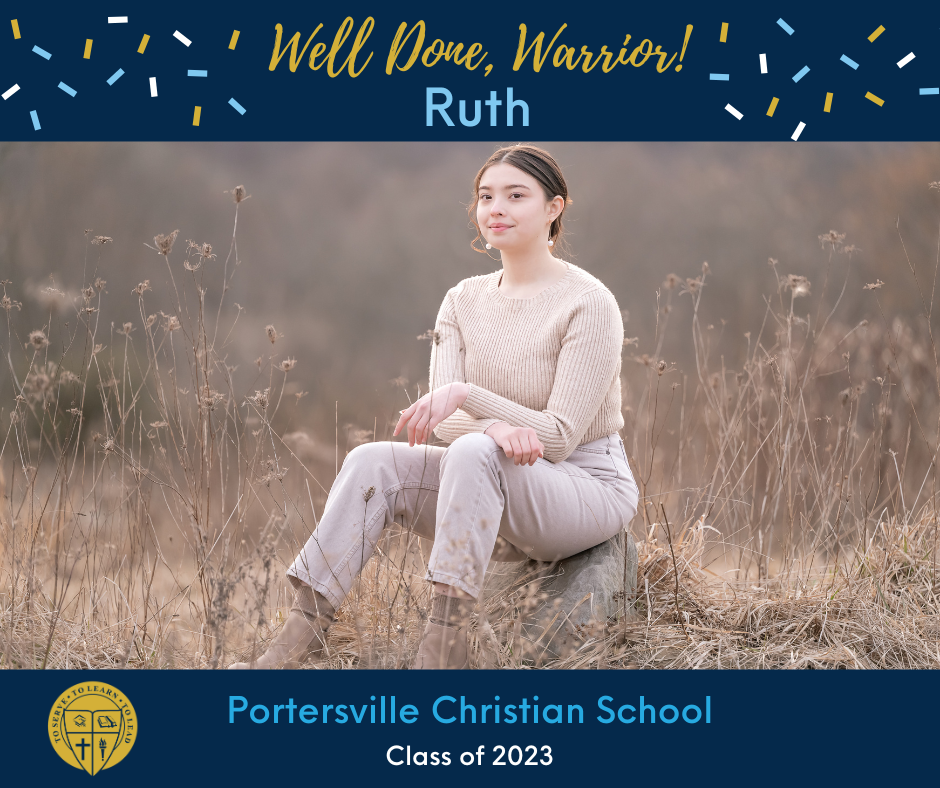 Ruth is another one from the Class of 2023 who has been at PCS since kindergarten. As Ruth nears graduation, she is looking forward to attending Westminster College in the fall for their Pre-Veterinarian program. She had some thoughts to share about being a Warrior for the last 13 years.
What is a fond memory of your time here, or something special about PCS? The service opportunities. I think that it was through the school that I was able to appreciate what serving means and why we serve others in the first place. Because of how impactful this was on me, I do wish there were more opportunities to do this, although I do know that the schedule can be busy.
Is there anything you think you will miss about PCS? The people. While there are other things I am going to miss, I think the biggest would be the sense of community I have within Portersville. Teachers make up a big portion of this community. They are not teaching at Portersville for status, or monetary gain. They are here for us, and I truly appreciate them for that.
Is there a scripture verse this year that is meaningful to you? 1 Corinthians 16:14. "Let all that you do be done in love." Recently I got a really nice planner, hardcover and everything. When purchasing it online, I realized I could even edit the cover. I decided that a good reminder was this verse. While the seeing it isn't life-changing per se, I find myself looking at it a lot since it's on my planner. Because of this, I have a constant reminder to act lovingly to people even when I do not think they deserve it.
What do you think is the most valuable thing you have learned about PCS? I'm not sure I can pinpoint one exact thing, although I would definitely say something from our high school Bible classes. Perhaps learning how to love people especially when we disagree with them. How to be kind when others don't believe what we do, and how to still show God's love to them despite this.
Do you have any advice or words of wisdom for students in the grades below you? To find something that you love, maybe something you would like to do for the rest of your life, you need to try things out. Get real world experience, don't just read things on the internet. Sometimes they aren't exactly what you may expect. The worst that could happen is that you find out you don't like this job. This situation, however, is way better than assuming you'll enjoy it, and only realize that you don't, until after you're knee-deep.
Ruth, it has been a pleasure having you as a student these many years! We wish you the very best in your endeavors!